At the speed of light : express delivery for Hyundai Nošovice.
Installing 2416 luminaires and the DALI control system on the manufacturing floors of the Hyundai automobile factory in Nošovice was one of the most demanding industrial lighting reconstructions in the Czech Republic in recent years. We completed the contract, which involved an extremely tight deadline, to satisfaction and ahead of time.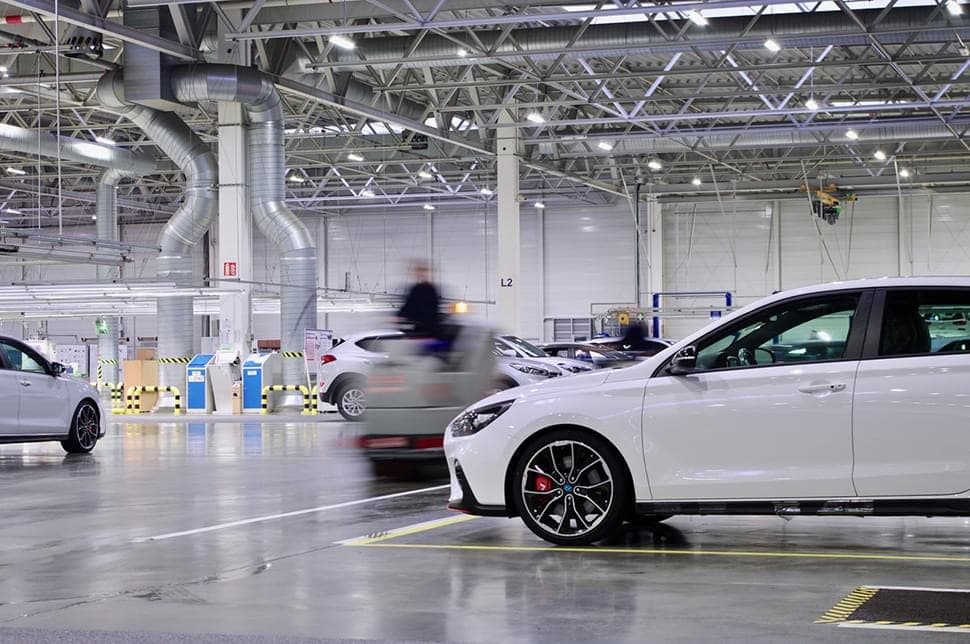 7 DAYS
INSTALLATION LENGHT
1 YEAR
INVESTMENT PAYBACK
The purpose of the investment was—as always—to save energy and to illuminate the production facilities better. Although it may not be obvious from the photographs the automobile factory setting is quite hostile for industrial luminaires. Therefore, the selection process naturally put emphasis on the quality of the system—its service life and durability of its parameters—and the warranty period. The customer required the luminaires to comply with the exacting ENEC certification standards or their equivalent.
We knew we were able to comply with these rigorous requirements. The selected doublepower!! SKY luminaires are designed for ambient temperatures of up to 50°C and certified for this temperature by a laboratory which is a member of the ENEC association. We accepted the challenge and we handed over the system more than two months ahead of time.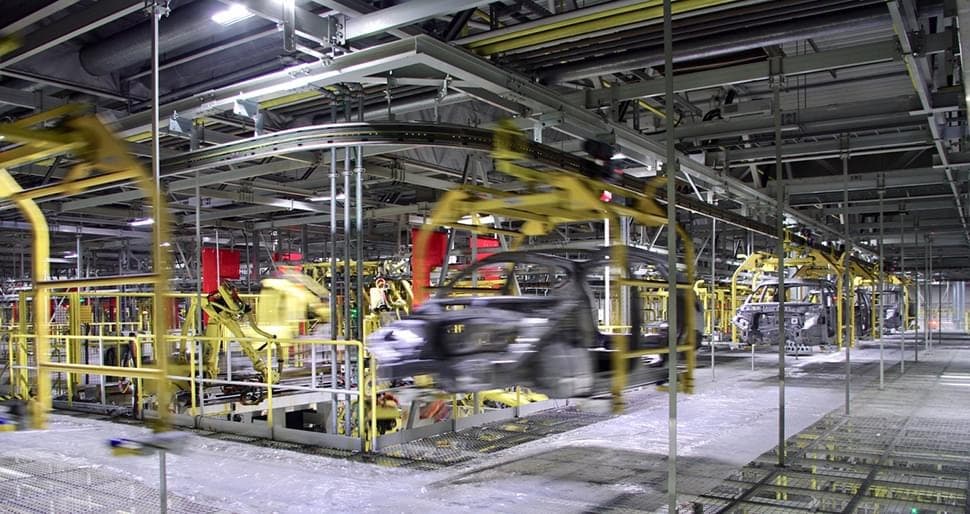 A mere one month after signing the contract the three manufacturing floors at the Nošovice automobile factory were illuminated by 2416 new luminaires of the doublepower!! SKY type. Less than two more months later we launched a lighting control system based on the DALI technology. Thanks to cooperation with the investor and effort by our staff, we handed the system over 12 weeks before the contracted deadline.
The illumination level increased on all manufacturing floors. We also achieved a significant improvement in problematic spots, such as the top platforms of the so-called safety nets.
Installing the luminaires on the manufacturing floor in the welding plant was extremely complicated. The floor, sometimes nicknamed the Jurassic Park by the visitors, is one big robot playground. Because most of the installation points are inaccessible from ordinary aerial work platforms we used a special platform. Due to its more than 30-meter-long boom, the employees respectfully renamed it Godzilla. Our equipment even included mountaineering gear.
IT IS WORTH THE INVESTMENT
The fully-fledged lighting control system takes maximum advantage of the contribution due to the natural daylight. The control system can be operated directly from the manufacturing floors using touch panels visualizing the controlled area, or from computers run by the managing personnel who are able to adjust the performance of the system in a very precise way down to the level of the individual luminaires. A routine operation thus requires no human intervention.
1110 kW → 362 kW
PŘÍKON PŮVODNÍ A NOVÉ SOUSTAVY
67 % → > 75 %
ENERGY SAVING WITH AND WITHOUT THE CONTROL SYSTEM